Epic Resins Filter Brochure
Epoxy Resin and Polyurethane Compounds for Filter Manufacturers
We have a variety of epoxy resin and polyurethane compounds to meet the demanding needs of filter manufacturers. Our resins and compounds are used in a variety of filtration applications including seam sealing, moldable end-caps, end-caps adhesives, and HEPA sealants. Our epoxy and polyurethane products are also utilized across many industries such as aviation, transportation, medicine, and textiles.
As a national polyurethane compound distributor, Epic Resins designs products for every situation. Temperature, climate, environment, and cure time are all factored into manufacturing our epoxies. Epic Resins can create an epoxy resin adhesive or polyurethane compound for the most extreme environmental conditions. Whether your filter is in water, extreme heat, water, or extreme cold, we have an epoxy solution for you. We also offer filter epoxy adhesives where chemical resistance is required such as with automotive fluids.
We test our epoxy and polyurethane resins, potting compounds, and adhesives in all conditions at our advanced development and research laboratories. Quality checking our products ensures total customer satisfaction. Viscosity, cure rate, tensile strength, tear propagation, hardness grade, and resistance to heat, chemicals, water, and electricity are all thoroughly examined by our engineers. Our team only selects the products able to pass our rigorous requirements. Our epoxy resin and polyurethane technical sales staff will help you select the proper material for your application. If we do not currently have an epoxy fitting your needs, we will develop one for you in our state-of-the-art research laboratory. We'll work with you to create the perfect customer experience while achieving a merit-worthy product. We create epoxy and polyurethane resins designed to suit your needs and exceed your expectations.
Take a look at our Filtration Polymers and Resins Brochure pdf for downloading or printing.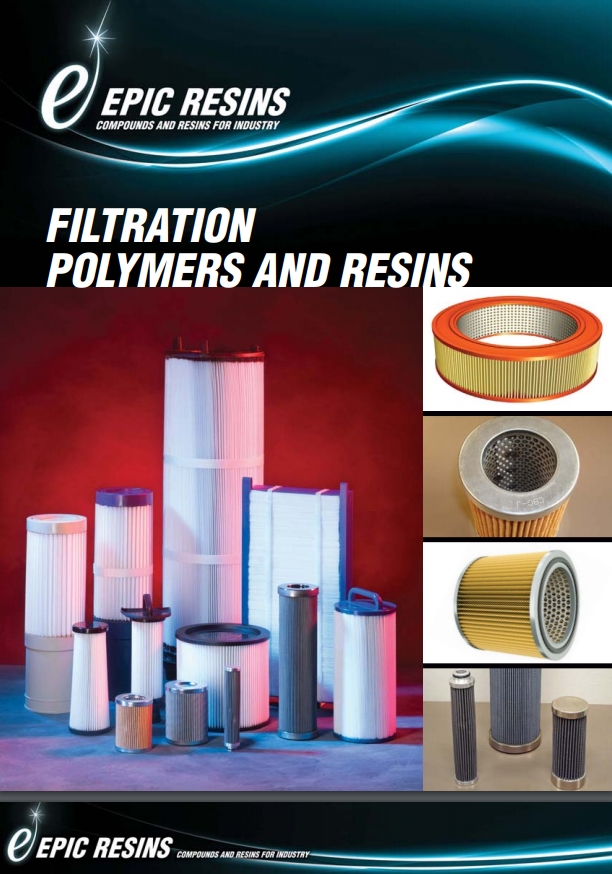 See our brochure above to find the epoxy right for your filter or contact our epoxy resin and polyurethane compound technical sales staff.
Epic Resins epoxy resin formulations and applications
Epoxy Resin Materials
1 component
2 component
Polyurethane potting compounds
Electrical potting compounds
Thixotropic epoxy compounds
Anhydride cure
Battery potting compounds
Adhesives and bonding materials
Polyurethane elastomer
Flame Retardant Polyurethane
Electronic encapsulation
Low hardness polyurethane
Aliphatic polyurethane compound
UL-Recognized potting compound
Thermally conductive epoxy
Protective resin applications
Benefits of polyurethanes over silicone potting
Lower cost of materials results in a more economical polymer
Better bond strength to substrates and cases
Durable and efficient in optimal operating temperatures range

Low temperature: -60°
High temperature: 150°C

Higher chemical resistance to more chemical compounds
Reduced water vapor permeability increases water-resistance of sensitive components
More flexible formulation allows polyurethanes to be formulated soft or rigid
More strength, elongation, and abrasion resistance
Reduced outgassing from material