Polyurethane Table Edge Molding Manufacturer
Table Top Resin Poured Edges
The polymer formulators at Epic Resins have created a line of polyurethane edge molding formulations used in tabletop manufacturing. The edge molding polyurethane is dispensed into a mold which fits around the table top and cures in place, leaving a seamless urethane table edging around the outside of the table top when the mold is removed. Epic Resins polyurethane edge molding compounds are easy to use and can be pigmented by the user to create any desired color.
Epic Resins' urethane edge molding products are decorative as well as durable, providing protection for the edge of the laminate as well as any items coming into contact with the molded polyurethane table edging. As with all of our products, table edge molding polyurethane cure times can be adjusted to fit your manufacturing needs. Custom polyurethane and epoxy resins are our specialty. Below are two examples of the types of high-quality polyurethane edge molding products Epic Resins manufactures.
Epic Resins has decades of experience in specialty epoxy and polyurethane resins. Our professional staff uses superior customer service to work with clients to solidify their manufacturing production process. Our expertise provides clients the ability to maximize proactive product development and supply consistency to achieve maximum value.
Get a quote on table edge molding materials from the polymer experts at Epic Resins.
Get Quality Table Edge Molding Resins Like:
Epic RM2013
Epic RM2013 is a low viscosity (about 1,700 cP) edge molding polyurethane elastomer with a Shore hardness of 80A (medium soft rating). Its hardness rating is in line with that of a leather belt, the sole of a shoe, and tupperware. The tensile modulus is approximately 500.9 PSI (3,453 kPa). The A scale on Shore hardness indicates a flexible material. Epic RM2013 can be penetrated with some serious effort, and is still soft enough to allow molding. This elastomer boasts a quick gel time of between 1.5 and 3.5 minutes, allowing for swift de-mold times and rapid part changeovers. This also provides original equipment manufacturers (OEM) a more malleable production schedule, making their manufacturing process easier.
Epic RM2014
Epic RM2014 is a low viscosity (about 2,000 cP) polyurethane elastomer used in the manufacture of edge molded table tops. With a Shore hardness of 65A (soft rating), this edge molding polyurethane is a great choice where the end user would like a softer feel to the edge mold yet needs assurance of its ability to properly protect the covered surface from anything coming into contact. Shore A scale denotes a flexible polyurethane. The 65A rating puts the Epic RM2014 in the same category as car tires and rubber bands, and just below the common hardness of 70A. Its tensile modulus is approximately 352.1.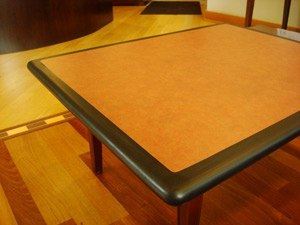 Quality Edge Molding Resins, Quality Service
Our epoxy formulation specialists work diligently to maintain flexible schedules for our clients' needs. Creating epoxy resin for countertops has become an increasingly perfected process as we've added manufacturing equipment to multiply our production of epoxy resin capacity five-fold. Our custom epoxy formulations and polyurethane resins work for a variety of counter and table applications, including countertop coating and edge molding.
We have expert polyurethane formulation chemists on staff to ensure you find the perfect countertop edge molding for your unique needs. From polyurethane countertops to custom epoxy resins and electronic potting compounds, Epic Resins has earned the esteemed status as the leading manufacturer of epoxy resin in our industry.
Contact the edge molding polyurethane manufacturers at Epic Resins today for more information on our extensive line of pre-developed and custom formulated products.