Radio Frequency (RF) Potting and Encapsulating Compounds
Epoxy Adhesives and Polyurethane Potting Compounds for Radio Frequency Applications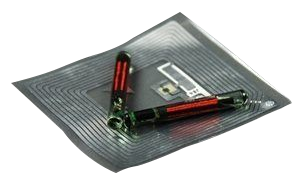 Epic Resins has a variety of epoxy polyurethane resin compounds for casting radio frequency devices, such as automatic meter readers (AMR's). The low dielectric constant up to 1 GHz can be used for applications in frequencies in the 433/868 MHz band. We also have adhesives for low-frequency transmission over short distances, such as security card readers.
Our epoxy and polyurethane potting compounds are excellent for a wide variety of radio frequency and wireless sensor applications, including RFID tags and Tire Pressure Management Sensors (TPMS). If you require RF transparency or optical clarity, we have clear compounds. These are useful in water and gas meter reading devices where you need to read a barcode. Our epoxy adhesives are also crack resistant. Low Tg (glass transition temperature) and low hardness formulations are suitable for outdoor applications where you need to protect electronics from harsh conditions.
Epic Resins has decades of experience in specialty epoxy and polyurethane resins. Our professional staff uses superior customer service to work with clients to solidify their manufacturing production process. We send in many of our potting materials to be UL rated and certified for enhanced fire resistance. Our expertise provides clients the ability to maximize proactive product development and supply consistency to achieve maximum value.
Why Epic Resins?
60+ years experience in specialty epoxy and polyurethane resins
State-of-the-art manufacturing facility
First epoxy resin formulator to earn ISO9002 Registration (April 1995)
ISO9001 Certificate of Registration (October 1998)
ISO14001 Registration (April 1999)
Highly specialized equipment on-site, including vacuum chambers and meter, mix and dispense (MMD) equipment
Lowest prices on custom epoxy formulations
Superior customer service
Radio Frequency Potting and Encapsulating (RF)
High-Temperature Resistant Epic S7527 for Potting Radio Frequency Devices
Not all radio frequency devices or meter readers are located in dry, safe locations. This creates a problem because these devices need to work properly in order to provide optimal clarity. Epic Resins has introduced a two component polyurethane potting compound to protect radio frequency devices. By creating a product with greater adhesion and moisture vapor permeability resistance at an affordable cost, Epic Resins adds another material to keep your equipment safe in the hardest conditions.
Some Examples of RF Potting Compounds Available at Epic Resins:
Epic S7325 -

2 Component Polyurethane Potting Compound for Bluetooth and Automotive

Epic S7325 is a low-hardness, two-component polyurethane electrical potting compound designed for automotive applications. Additionally, the superior stability of the dielectric constant up to frequencies of 3GHz makes Epic S7325 an ideal candidate for various RF and Bluetooth applications. The low glass transition temperature and good stability up to 125°C allow this material to be used in wide temperature range applications. The convenient 1:1 volumetric mix ratio makes this material easy to dispense using meter mix and dispense equipment.
Epic S7532 -

2 Component Epoxy w/ High Optical Clarity for AMRs

Epic S7532 is a two-component epoxy system designed for potting automatic meter readers (AMRs) for the water meter market. This compound has more than 10 years of field experience. The optical clarity of this material is key for applications in which visibility to LED's or barcodes under the potted surface is important. Epic S7341 maintains a low dielectric constant up to a frequency of 1 GHz and allows this system to be used in applications with frequencies in the 433/868 MHz band. The excellent physical properties and electrical properties over an extended temperature range make this an ideal candidate for rugged applications. The long work life and low exothermal temperatures are essential for applications with temperature sensitive components.
Epic RM2017 -

Polyurethane Compound with Low Dielectric Constant

Epic RM2017 is a two-component polyurethane potting compound designed for use in low to high-frequency RF applications. Epic RM2017's low dielectric constant, coupled with its other electrical properties, allow the user to successfully transmit lower frequency signals over greater distances with low signal loss.
Epic S7391-03 -

2-Component Polyurethane Potting Compound for Automatic Meter Reading

Epic S7391-03 is a two-component epoxy potting compound designed with a convenient volumetric mix ratio for optimum properties. The low dielectric constant allows this product to excel at Automatic Meter Reading (AMR) applications. The cured properties of this material enables it to be used protect devices with very sensitive components by minimizing the stress on them. Low water absorption and a low specific gravity makes this material ideal for outdoor or weight sensitive applications.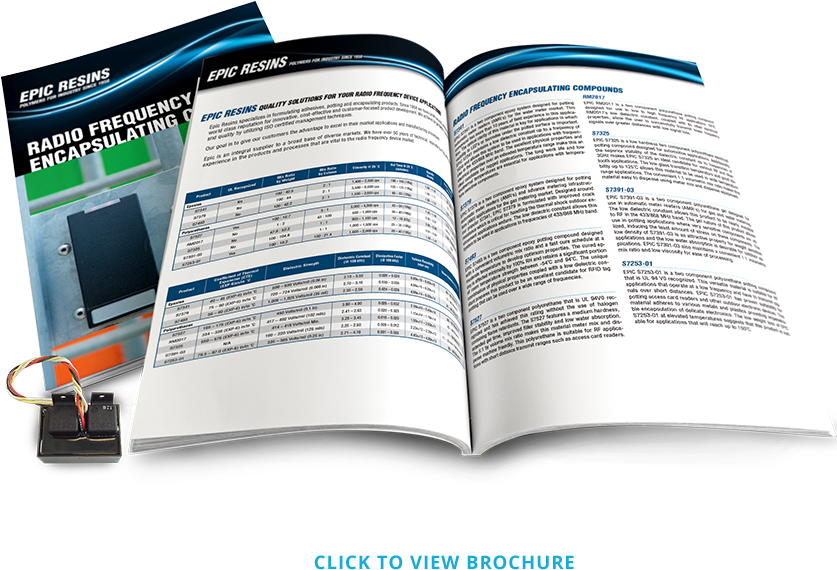 Custom RF Encapsulation and Potting Resins by Epic Resins
If you do not see an epoxy adhesive for your needs, we can custom develop one for you in our state-of-the-art research laboratory. We employ advanced testing procedures to develop high-quality resin materials for the manufacturing of OEM radio frequency tags and components.
Contact Epic Resins our epoxy adhesive and polyurethane potting compound technical sales staff today for more information.
Radio Frequency Encapsulating Compounds Brochure
See our brochure to find the material perfect for your radio frequency application. If you need help selecting the correct material, one of our epoxy resin and polyurethane technical sales staff will help you select the best material for your manufacturing project.