Light Emitting Diode (LED) Potting Applications and LED Encapsulants
Epoxy Resin and Polyurethane Compounds for Peerless LED Encapsulation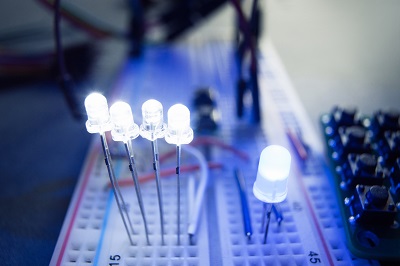 The demand for LED encapsulants is expected to double in the next few years. Forbes anticipates market share growth from 18% to 70% by 2020. Packaged LED lighting will dominate the demand. Epic Resins specializes in quality LED encapsulation for any industry or application.
Our epoxy and polyurethane resin formulations insulate fragile wire bonds from moisture, thermal shock, vibration, and other potentially damaging conditions. Liquid epoxy is poured into the LED chamber and bracketed to the desired shape. Our high-efficiency ovens then cure the mold. Epic Resins epoxy manufacturing process has exceeded industry expectations in quality, cost and dependability.
For decades Epic Resins has been formulating leading-edge LED encapsulation technologies. One component of our quality is the exemplary technical training of our epoxy and polyurethane specialists. Our specialists ensure your epoxy or polyurethane compound lasts as long as the LED light itself with a meticulous formulation for exceptional results. Epic Resins is your answer for cost-effective, reliable LED encapsulation.
Custom-Made Resins for LED Lighting Manufacturers
Epic Resins' expert formulators excel in customizing formulation to fit the specific needs of our customers. If you see a Epic Resins compound that doesn't entirely fit your needs, we'll adjust the formula to allow unique product properties. Our advanced development and testing labs allow us to create new formulas from the ground up, so LED lighting manufacturers are certain to find the perfect epoxy or polyurethane compound for their products.
LED Encapsulating Compounds Available at Epic Resins:
Epic S7478 -

2 Component Polyurethane LED Potting Compound

Epic S7478 series is a two-component polyurethane potting compound designed for use in high-temperature applications. Epic S7478 is UL 94 V-0 recognized in a thin cross section without the use of halogen flame retardants and offers a 140°C RTI recognized by UL. The Epic S7478 works extremely well for LED drivers that must meet the requirements of UL 8750 safety standards for LED equipment in lighting products, damp location drivers, electrical encapsulation, signs and many other electrical potting applications. For more technical information on Epic S7478, please view the brochure.
Epic S7253 -

2 Component Polyurethane Encapsulation Compound

Epic S7253 series of products are two-component polyurethane encapsulation compounds that are recognized by Underwriter's Laboratories as flame retardant materials. The S7253 series of LED potting urethanes are available in a variety of colors and gel times. The S7253 series of polyurethane LED encapsulants have a low mixed viscosity and good thermal conductivity.
Epic S7144 -

2 Component Polyurethane LED Potting Compound

Epic S7144 series of products are two-component polyurethane LED potting compounds that are formulated in a variety of colors and gel times. The S7144 series of products are designed with a meter mix friendly 3:1 ratio by volume, a Shore A Hardness of 80, and good hydrolytic stability for LED encapsulation applications.
Epic S7310 -

2 Component Urethane Potting Compound

Epic S7310 is a black two-component urethane compound featuring low viscosity, a 1:1 volumetric mixing ratio, good resin/hardener compatibility, and good durometer stability after being exposed to elevated temperatures.
LED Encapsulation Improves Applications in Innumerable Industries
Epic Resins LED potting formulations are dynamic. We engineer epoxy and polyurethane solutions varied in hardness, pot life, thermal integrity, temperature tolerance, viscosity and more. If you need LED encapsulation Epic Resins can do it. We've devised polyurethane potting compounds for automotive lights, LED signs, and LED embedded indicators, including Epic S7511.
The scrupulous chemical engineers at Epic Resins frequently combine polyurethane compounds to prevent mechanical failure and moisture damage, extending the life of the LED. Epoxy LED encapsulation is also common but for extreme thermal resistance.
Other common LED encapsulation applications include:
Advertising banners
Aviation and airplane lighting
Home and business lighting
Theater lighting
Architectural lighting