STATE OF THE ART
PRODUCTION
SHORT LEAD TIMES
FAST TURNAROUND
STATE OF THE ART
DEVELOPMENT LAB
THE HIGHEST QUALITY
ISO CERTIFIED
Adhesives for Alternative Wind Energy Production
The Best Adhesives for Wind Turbine Manufacturing

Epoxy resins provide incredible benefits to the wind turbine manufacturing process. When you're looking for high quality resins to incorporate into your wind turbine designs, there's only one name to look to: Epic Resins. We will provide customers with superior polyurethane and adhesive products, specially made to meet your manufacturing needs.

Our benefits include:
Minimal shrinkage / Maximum adhesion: The wind turbine and other operating parts vulnerable to weather and extreme temperatures will be protected with resins that won't shrink - maintaining their adhesive properties
Solid electrical properties and protection: Electronic potting compounds capable of withstanding harsh conditions while allowing electronic equipment to maintain normal operation
Exceptional chemical resistance: The battery and its chemicals won't interfere with the wind turbine operation, thanks to our custom formulated, weather and chemical resistant potting compounds
Top-quality mechanical strength: Wind turbine blades withstand strong winds, extreme temperatures and harsh weather when you combine our bonding resins with fiberglass and epoxy laminate materials
Wind Power – Clean, Sustainable Energy at a Fraction the Cost of Fossil Fuels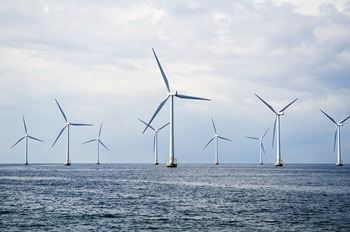 Wind energy is a highly economical, alternative method for generating clean energy to power cities and homes. The simple on land or offshore operation partnered with the streamlined design capable of powering over 9,000 homes has made wind power the ideal energy source for future generations. Wind farms are one of the most cost effective sources of energy and produces no environmental pollution – the same cannot be said about energy plants relying on fossil fuels.
Wind Turbine Operation
Wind energy is drawn from a group of wind mills, making up a wind farm. Also known as wind turbines, these wind mills are built standing up to 100 feet tall, to catch greater currents of wind blowing. When the wind hits the blades of the turbine, they begin to rotate.
Blades spin roughly 18 rotations per minute. Since this amount is not enough to produce electrical energy, the spinning blades are attached to a rotor column with gears speeding up the internal revolutions from 18 to 1,800 revolutions. This amount is enough to produce sufficient electrical power and that power is channeled from the wind turbine through power lines and substations straight into your home.
Epoxy Resins Keep Everything Together
In order to generate electricity from wind power, the wind mills need to be positioned in places subject to hot or cold climates, meaning the windmills must be equipped to handle adverse weather conditions. To keep these energy producing wind turbines operating smoothly at full capacity, they must be able to handle harsh elements.
Using epoxy resins in the manufacturing process allows the wind turbines to resist harsh temperatures and weather conditions without necessary parts turning brittle, malfunctioning, or breaking down entirely. Some of the parts at risk in a wind turbine include:
Inverters inside the wind turbine generator
Power charge controller components
For reliable protection against the elements, excellent adhesion and top-quality elasticity, look to Epic Resins. We will deliver unmatched customer service while providing just the right epoxy formulations to meet your wind energy operational needs.