STATE OF THE ART
PRODUCTION
SHORT LEAD TIMES
FAST TURNAROUND
STATE OF THE ART
DEVELOPMENT LAB
THE HIGHEST QUALITY
ISO CERTIFIED
Solar Panel Bonding Adhesives
Photovoltaic Cell Manufacturing with Custom Formulated Adhesive Materials
Epic Resins specializes in custom formulation of adhesives designed specifically to provide superior adhesion to photovoltaic cells. Epic Resins custom formulates a wide variety of solar panel adhesives for your specific application from quick curing adhesive for attaching the junction box to the PV panel to two component aliphatic polyurethane compounds with exceptional UV resistance.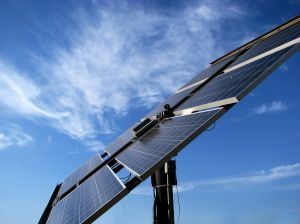 Adhesives eliminate the need for mechanical fasteners, such as U-bolts and screws, and completely remove the stress points caused by these fasteners. By utilizing our custom formulated solar panel adhesives instead of mechanical fasteners, the need for constant maintenance, replacement inventory and installation costs are greatly reduced. Our custom formulated adhesives can be used not only for assembly of photovoltaic panels but also for attaching the panel frames to the mounting racks.
Depending upon what product you are manufacturing in the solar energy device market, you will have an assortment of substrates to coat or bond. Epic Resins manufactures a wide variety of formulations to adhere to a vast array of both metal and plastic substrates, including epoxy resins for electronics potting, moisture cure adhesives and polyurethane doming resins. We are especially adept at bonding dissimilar substrates and creating unique bonding adhesives for our customers.
S7469 - 2 Component Urethane Adhesive
Epic S7469 is a two component urethane adhesive designed to provide superior adhesion to a variety of thermoplastic substrates. S7469 is designed with a fast gel/cure time and a convenient 1:1 by volume mix ratio. This product is especially useful when you need a quick curing adhesive for attaching the junction box to the PV panel.
S7459 - 2 Component Thixotropic Polyurethane Adhesive
Epic S7459 is a two component, thixotropic polyurethane adhesive. Epic S7459 possesses a gel time under 10 minutes and adheres well to a variety of metal and plastic substrates, including ABS. Epic S7459 works well with both automated meter mix equipment or hand held dispensers. Epic S7459 works well as both an adhesive and a sealant for PV panel frames.
D9960 - 2 Component Aliphatic Polyurethane Compound
Epic D9960 is a two component aliphatic polyurethane compound with a convenient 1:1 volumetric mix ratio. Epic D9960 is designed to have a Shore A durometer in the mid 30 range to allow for use as a gasketing material. Being an aliphatic polyurethane, Epic D9960 has exceptional UV resistance.
Check out some of our products listed below to see which will apply to your particular needs or CONTACT us for custom solar bonding adhesives for your application.