Solar Panel Charge Controller Polyurethane Potting and Casting Compounds
Alternative Energy Equipment Charge Controllers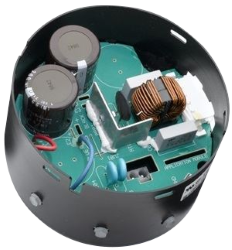 Epic Resins has a large selection of products to meet your solar power electrical potting or encapsulating needs. Our technically trained sales staff understands the importance of selecting the proper product to meet the demands of your application, and with a large number of UL approved materials designed to withstand various harsh, outdoor environments, we can help you to meet your high temperature/high voltage requirements.
With over 50 years of experience in electrical distribution, Epic Resins can be counted on to provide the protection your device requires.
Polyurethane Potting Compounds for Sensitive Solar Electronics
The polymer manufacturers at Epic Resins have produced a line of potting compounds to perfectly fit the protective needs of electronics in the solar energy industry. Whether you need casting compounds for solar battery packs, potting compounds sensitive micro-inverters and PCBs, or are simply looking to produce a more functional electrical component, Epic Resins is your answer.
Potting compounds designed for charge controller PCBs:
S7285-02 -

2-Component Polyurethane Compound

Epic S7285-02 is a two-component polyurethane compound for potting electronic control modules (ECMs). The low mixed viscosity of the S7285-02 allows the material to flow into intricate places under printed circuit boards and other tight tolerance areas in a wide variety of electronic devices. Another key property of this product is the 4:1 by volume mix ratio that makes the system very adaptable to meter mix and dispenses applications. Offering a hardness of Shore OO = 50-65, the S7285-02 provides excellent flexibility, therefore allowing delicate surface mounted devices (SMDs) to expand and contract during thermal shocks and thermal cycling.

For applications that generate a great deal of heat, S7285-02 has shown extremely low weight loss at 130°C - 0.24% after 168 hours. S7285-02 is UL 94 V-0 recognized at 4.8 mm and is RoHS compliant.
S7351 -

2-Component Polybutadiene Based Polyurethane

Epic S7351 is a two-component, room temperature cure, polybutadiene based polyurethane. The S7351 was specifically formulated for electronic modules and is also an excellent candidate for electronic control modules (ECMs). Due to its low hardness and flexibility, the S7351 will not exert stress on delicate surface mounted devices (SMDs) on printed circuit boards (PCBs) when exposed to extreme thermal cycling typical of outdoor electronics applications.

The S7351 is an excellent alternative to rigid systems that do not allow expansion and contraction of delicate components, causing failures. Also, due to the polybutadiene chemistry used in this formula, the product provides excellent high-temperature properties up to 125°C and much-improved chemical resistance.
S7458 -

2-Component Polyurethane Potting Compound

Epic S7458 is a two-component polyurethane potting compound designed for electronic potting applications. Epic S7458 was formulated as a cost-effective potting compound for applications requiring a low Tg, thermal cycling resistance, convenient 4:1 volumetric mix ratio, low weight loss at 130°C and is designed to pass UL 94 V-0 at 1/4 inch.
Custom Formulations for Electrical Potting Compounds
Get the Perfect Potting Material for your Solar Power Product
Over our many decades in the polymer manufacturing industry, we've developed countless potting material formulations for clients all over the world. Our knowledge and attained experience allows us to formulate the perfect custom resin solution for just about any application. We'll work with you to understand the product specs you need, adjust formulations or develop new chemistries, and thoroughly test the product in environmental stress simulations. Epic Resins will find the best solution for your potting, adhesive and encapsulation needs.
Why Epic Resins?
60+ years experience in specialty epoxy and polyurethane resins
State-of-the-art manufacturing facility
First epoxy resin formulator to earn ISO9002 Registration (April 1995)
ISO9001 Certificate of Registration (October 1998)
ISO14001 Registration (April 1999)
Highly specialized equipment on-site, including vacuum chambers and meter, mix and dispense (MMD) equipment
Lowest prices on custom epoxy formulations
Superior customer service
Contact the solar panel charge controller potting compound formulators at Epic Resins today for more information on our custom manufactured polyurethane materials for renewable energy systems.
Epic Resins epoxy resin formulations and applications
Epoxy Resin Materials
1 component
2 component
Polyurethane potting compounds
Electrical potting compounds
Thixotropic epoxy compounds
Anhydride cure
Battery potting compounds
Adhesives and bonding materials
Polyurethane elastomer
Flame Retardant Polyurethane
Electronic encapsulation
Low hardness polyurethane
Aliphatic polyurethane compound
UL-Recognized potting compound
Thermally conductive epoxy
Protective resin applications
Benefits of polyurethanes over silicone potting
Lower cost of materials results in a more economical polymer
Better bond strength to substrates and cases
Durable and efficient in optimal operating temperatures range

Low temperature: -60°
High temperature: 150°C

Higher chemical resistance to more chemical compounds
Reduced water vapor permeability increases water-resistance of sensitive components
More flexible formulation allows polyurethanes to be formulated soft or rigid
More strength, elongation, and abrasion resistance
Reduced outgassing from material