Epic Material Solutions for Electric Vehicles
As the electric and hybrid vehicle market is growing and evolving, so are our products that support it. We stand behind the industry with safe, reliable & cost-effective materials. Epic Resins has over 65 years of experience in formulating and manufacturing epoxy and polyurethane compounds for the automotive and electronics industries.
You may be searching for a material to help you achieve certain properties, including thermal conductivity, strength, temperature, cure speed, and color to insulate and protect against temperature, moisture, corrosion, thermal runaway, humidity and other damaging environments.
Get a Quote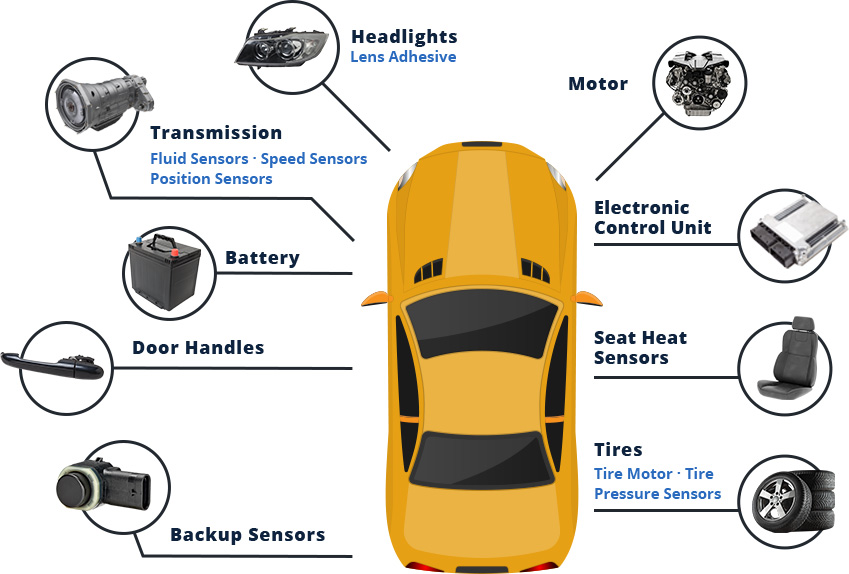 EV Epoxy and Polyurethane Materials for Manufacturers
We understand how to formulate and manufacture quality epoxy and polyurethane materials that meet the requirements of the industry. Our growing EV portfolio covers solutions for many applications, including motor, battery, capacitors, and electronic components.
Formulations for E-Mobility Materials
ProPreg E240 has the highest industry adhesion wire-to-wire, wire-to-aramid paper, aramid paper-to-steel and wire-to-low energy plastic slot liners. This single component epoxy secondary insulation has a high operating temperature and quick cure.
Epic 0218EV is a single-component epoxy adhesive and potting compound. Epic 0218EV is designed to have excellent bonding and thermal properties and features a 10-month shelf life at 25°C.
Epic 0227 is a single component, 100% solids epoxy potting compound. It is designed to have a high thermal conductivity and a high Tg for thermally demanding applications. This component is designed to pass UL 94 V-0 and have a CTE below 30 ppm.
Epic S7591 is a two-component epoxy that is designed for high temperature applications. It features a low thermal expansion rate coupled with a high glass transition temperature. S7591 is also designed to provide an extremely high 3 W/mK thermal conductivity for rapid removal of heat generated by electrical/electronic components.
Epic S7592 is a two-component polyurethane adhesive designed to pass UL 94 V-0 flame retardancy testing. This urethane has been formulated to provide superior adhesion to a variety of substrates, including plastic and metal.
Additional Services
Ask our formulation experts for material recommendations for your application. Don't see what you need? We offer custom epoxy and polyurethane formulations. These made-to-order adhesives, potting compounds and encapsulants are carefully formulated by our resin chemists to meet your exact specifications.
Custom formulations are designed for specific:
Operating temperature range parameters

Bond strength

Chemical resistance

Surface adhesion requirements

Environmental tensions

Materials

Cure schedules

Viscosity

Surface preparation requirements

Thermal shock properties