Optically Transparent Polymers for LED Encapsulation
Optically clear polymers allow light to pass through them without significant distortion. These materials are commonly used to protect LED circuitry from the harsh demands of outdoor environments, heat generation, liquid exposure, and hazardous environments. Our LED encapsulating materials are used to protect electronic circuitry in a variety of applications, including:
LED drivers

Power supplies

LED lamps with integrated drivers

Outdoor LED displays

Automotive lighting

Decorative and outdoor strip lighting

Pool & spa lighting

Emergency lighting & signaling
Wondering if we have what you're looking for? We are happy to discuss your application needs.
Get a Quote
Optically Clear Formulations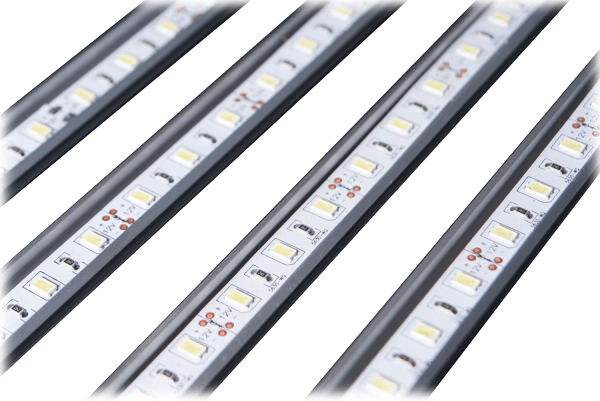 Optically Clear Compounds
Epic S7515 is a two-component optically clear aliphatic urethane compound. It has exceptional UV resistance. Low mixed viscosity and short gel time allow for easy air release and quick turnover of parts in high-volume production settings. It features a 1:2 volumetric mix ratio for easy adaptation to meter mix and dispensing machinery.
Perfect for high-volume production applications:
High strength + high stiffness yields strong, lightweight results

Low shrinkage allows for precision

High adhesion forms tight, reliable bonds

Thermal stability for tolerance of high temperatures

Tough chemical resistance to acids, solvents and bases
Epic D9980 is a rigid, two-component aliphatic urethane casting material. It is designed to be UV stable, optically clear, and display minimal color change and high gloss retention after 1,000 hours of accelerated weathering tests. This product is used in applications that operate up to 130C.
Epic S7524 is a 2-component transparent, UL 94 V-0-recognized polyurethane potting compound. It is unfilled and excellent for applications requiring low mixed viscosity for better flow into tight tolerance areas. It is an excellent choice for white goods applications, sensor potting, switches, and control modules.
Popular Applications of Optically Clear Polymers
Custom Formulated Optically Clear LED Encapsulation Materials
Our epoxy and polyurethane resin formulations for LED encapsulation insulate fragile wire bonds from moisture, thermal shock, vibration, and other potentially damaging conditions while maintaining their optical properties. If one of our current products does not entirely fit your needs, we'll adjust or develop a formula to work with your unique product properties. Our fully equipped development and quality assurance labs allow us to create consistent and innovative solutions across the LED market.
Product
UL Recognized
Mix Ratio by Weight (A:B)
Mix Ratio by Volume (A:B)
Mixed Viscosity @ 25°C, 20 RPM (cps)
Gel Time @ 25°C
Glass Transition Temp. (Tg)
Epoxies
R1055/H2083
Yes
100:18
3.25:1
2,300 - 3,300
300 - 360 Min (100 Grams)
70 - 80 °C
S7512
No
100:9
100:22.1
4,000 - 5,000
150 - 260 Min (100 Grams)
48 - 52 °C
S7513
No
100:14.2
4:1
2,500 - 3,500
100 - 250 Min (100 Grams)
40 - 45 °C
Polyurethanes
D9980
No
100:97
1:1
300 - 600
10 - 20 Min (100 Grams)
19 - 24 °C
S7144
No
100:43
3:1
250 - 350
25 - 35 Min (100 Grams)
(-21) - (-65) °C
S7302
No
100:19.5
4:1
2,500 - 3,500
45 - 55 Min (100 Grams)
(-70) - (-65) °C
S7475
Yes
100:17
4:1
3,500 - 4,500
40 - 50 Min (100 Grams)
-55 °C
S7478
Yes
100:8.52
100:12
5,000 - 7,000
25 - 35 Min (100 Grams)
(-5) - (-10) °C
S7515
No
51.5:100
1:2
500 - 700
5 - 10 Min (13 Grams)
25 - 30 °C
S7524
Yes
100:58.4
2:1
170 - 230
20 - 35 Min (100 Grams)
(-19) - (-15) °C
S7527
Yes
100:16.7
5:1
3,000 - 4,000
30 - 50 Min (100 Grams)
(-2.5) - (-1.52) °C
Product
Coefficient of Thermal Expansion (CTE)(EXP‑6) in/in °C
Dielectric Strength (volts/mil)
Dissipation Factor (100 kHz)
Volume Resistivity (ohm‑cm)
Shore Hardness @ 25°C
Epoxies
R1055/H2083
43 - 47
550 @ 0.080"
0.020 - 0.022
1.90e+15 - 2.10e+15
85 - 90 D
S7512
34 - 37
410 @ 0.100"
0.015 - 0.025
2.00e+15 - 2.50e+15
88 - 91 D
S7513
35 - 45
510 @ 0.100"
0.020 - 0.040
1.50e+15 - 2.00e+15
84 - 87 D
Polyurethanes
D9980
85 - 95
385 @ 0.100"
0.014 - 0.018
1.00e+15 - 1.20e+15
75 - 80 D
S7144
190 - 210
420 @ 0.125"
0.042 - 0.046
1.10e+13 - 1.20e+13
77 - 83 A
S7302
175 - 190
365 @ 0.125"
0.020 - 0.030
2.40e+12 - 2.80e+12
68 - 72 A
S7475
355 - 365
472 @ 0.095"
0.010 - 0.011
2.70e+12 - 2.80e+12
50 - 65 OO
S7478
100 - 130
450 @ 0.100"
0.040 - 0.070
1.50e+12 - 2.00e+15
75 - 80 A
S7515
200 - 250
340 @ 0.100"
0.040 - 0.060
1.00e+11 - 1.50e+11
30 - 35 D
S7524
285 - 295
422 @ 0.102"
0.105 - 0.125
1.80e+12 - 2.00e+12
61 - 65 A
S7527
165 - 175
855 @ 0.033"
0.025 - 0.032
3.10e+14 - 3.40e+14
88 - 92 A