Solar Panel Bonding Adhesives at Epic Resins
Custom Formulated Adhesive Materials for Photovoltaic Cell Manufacturing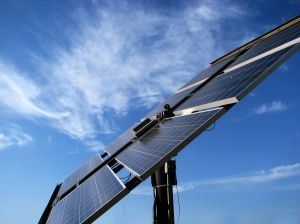 Epic Resins specializes in custom formulated adhesives designed specifically for superior adhesion to photovoltaic cells. We have a wide variety of solar panel adhesives, from quick-curing adhesives for attaching the junction box to the PV panel to two-component aliphatic polyurethane compounds with exceptional UV resistance. We also custom formulate adhesives for a wide range of applications.
Adhesives eliminate the need for mechanical fasteners, such as U-bolts and screws, and completely remove the stress points caused by these fasteners. By using our custom formulated solar panel adhesives instead of mechanical fasteners, the need for constant maintenance and replacement inventory, along with the installation costs, is greatly reduced. Our custom-formulated adhesives can be used not only for assembly of photovoltaic panels but also for attaching the panel frames to the mounting racks.
Epic S7469 -

2-Component Urethane Adhesive

Epic S7469 is a two-component urethane adhesive designed to provide superior adhesion to a variety of thermoplastic substrates. S7469 is designed with a fast gel/cure time and a convenient 1:1 by volume mix ratio. This product is especially useful when you need a quick curing adhesive for attaching the junction box to the PV panel.
Epic S7459 -

2-Component Thixotropic Polyurethane Adhesive

Epic S7459 is a two-component, thixotropic polyurethane adhesive. Epic S7459 possesses a gel time under 10 minutes and adheres well to a variety of metal and plastic substrates, including ABS. Epic S7459 works well with both automated meter mix equipment or handheld dispensers. Epic S7459 works well as both an adhesive and a sealant for PV panel frames.
Epic D9960 -

2-Component Aliphatic Polyurethane Compound

Epic D9960 is a two-component aliphatic polyurethane compound with a convenient 1:1 volumetric mix ratio. Epic D9960 is designed to have a Shore A durometer in the mid 30 range to allow for use as a gasket material. Being an aliphatic polyurethane, Epic D9960 has exceptional UV resistance.
Formulating Custom Adhesives for Unique Applications
Depending upon the solar energy device you are manufacturing, you will have an assortment of substrates to coat or bond. Epic Resins manufactures formulations to adhere to a vast array of both metal and plastic substrates, including epoxy resins for electronics potting, moisture cure adhesives and polyurethane doming resins. If we don't have the adhesive that will work for you, we'll formulate one. We are especially adept at creating unique bonding adhesives for bonding dissimilar substrates.
Why Epic Resins?
60+ years experience in specialty epoxy and polyurethane resins
State-of-the-art manufacturing facility
First epoxy resin formulator to earn ISO9002 Registration (April 1995)
ISO9001 Certificate of Registration (October 1998)
ISO14001 Registration (April 1999)
Highly specialized equipment on-site, including vacuum chambers and meter, mix and dispense (MMD) equipment
Lowest prices on custom epoxy formulations
Superior customer service
Check out some of our products below to see which will work for your application, or CONTACT us for custom solar bonding adhesives.
Epic Resins epoxy resin formulations and applications
Epoxy Resin Materials
1 component
2 component
Polyurethane potting compounds
Electrical potting compounds
Thixotropic epoxy compounds
Anhydride cure
Battery potting compounds
Adhesives and bonding materials
Polyurethane elastomer
Flame Retardant Polyurethane
Electronic encapsulation
Low hardness polyurethane
Aliphatic polyurethane compound
UL-Recognized potting compound
Thermally conductive epoxy
Protective resin applications
Benefits of polyurethanes over silicone potting
Lower cost of materials results in a more economical polymer
Better bond strength to substrates and cases
Durable and efficient in optimal operating temperatures range

Low temperature: -60°
High temperature: 150°C

Higher chemical resistance to more chemical compounds
Reduced water vapor permeability increases water-resistance of sensitive components
More flexible formulation allows polyurethanes to be formulated soft or rigid
More strength, elongation, and abrasion resistance
Reduced outgassing from material