State of the Art Resin Production Facility
State of the Art Production Facility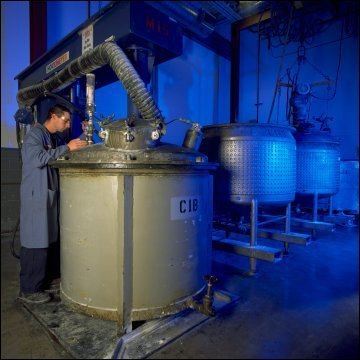 At Epic Resins, our goal is to meet your production demands. To meet the high production volume required by our clients we invested in new, industry leading, production capital machinery. We invested in 2,700-gallon capacity polyurethane and moisture cure polyurethane reactors too quickly and efficiently satisfy our client's orders. Even faster than before, we can now fulfill the product orders you need to keep your business running smoothly and efficiently, whether you require table edge molding, need potting for electronics, or epoxy formulation for alternative energy.
Generators Ensure Low Production Costs
With the introduction of our high-volume capacity reactor tanks into our development process, we've taken on the capability to produce large batches of product with short turnaround time. To mitigate the risks of losing large quantities of products due to forces outside of our control, we added generators to our facilities. In the case of any power outage, the generators kick in, maintaining the essential controls—temperatures, pressures, and the addition of the right chemicals at the right times—keeping our products in line with their manufacturing specifics.
This creates stability and reliability. You'll get your product on time, meeting your production deadlines with no sacrifice of quality control. You maintain your reputation in the eyes of your clients and business partners, and we maintain our reputation as an industry leading supplier. The introduction of these generators is a win for everybody involved, including the consumers at the end of the line.
When you choose Epic Resins as your epoxy, resin and compound provider, you can be sure you'll get the highest-quality product available, on time, every time.
Contact our outstanding epoxy resin service team to begin your production process today.