Unparalleled Customer Support at Epic Resins
Real People Giving Real Support
Forget about voicemail and pressing 1 for English. When you call Epic Resins to speak to someone, you can be confident an actual person will answer the phone during normal business hours. Whether you're looking to learn more about our polyurethane adhesive products, get a quote, or want to discuss the development process after getting a quote, our friendly, knowledgeable support staff is available to help with any inquiries.
Customer Service from Knowledgeable People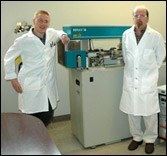 The customer representatives at Epic Resins are unique in their comprehensive knowledge of our products and their applications. Our customer service members have strong backgrounds in chemistry, ensuring they're fully knowledgeable about all our products, effectively answering any inquiries you have. Every member of our support staff has a full understanding of our epoxy and resin production process.
Each member of our customer representative's team has gone through extensive training to familiarize themselves with how we do things at Epic Resins. They have the know-how to walk you through the steps—from formulation to engineering to manufacturing and implementation in your own business. They work closely with Epic Resin's chemical and technical compound formulation specialists to get you the product you want.
Thanks to our highly trained service team, business with Epic Resins is a smooth process. We've thought about the questions you'll ask us, and have the answers before you call. For the questions we couldn't possibly have anticipated, our specialists are always around to impart a fully detailed answer.
Don't miss out on any of the details. Save your time, energy, and capital.
Contact the custom epoxy engineers at Epic Resins to get the information you need to effectively pursue your business plans.